The 2014 NBA Draft saw the Cleveland Cavaliers again win the right to choose first. Last year they acquired Anthony Bennett, who has gone down in recent memory as one of the worst draft picks. This year the Cavs, who are the favorites to win the NBA Championships with Betfair, picked up Andrew Wiggins. However, you won't be seeing him in a Cleveland jersey, as he was traded alongside Bennett to the Minnesota Timberwolves in return for Kevin Love.
Hopefully Wiggins will be able to make a better account of himself in his maiden NBA season than his countryman, who we all hope finds his feet in Minnesota.
Although Bennett was bad, he was not the worst draft pick in NBA history. So who are?
Michael Olowokandi

Pick/Year: No.1/1998
College: Pacific
Team: Los Angeles Clippers
Chosen over: Dirk Nowitzki, Paul Pierce, Vince Carter
NBA career stats: 8.3 PPG, 6.8 RPG, 1.4 BPG (1998-2007)
Thankfully Michael Olowokandi finished college with a degree in economics, as his basketball career is, in the most part, an unsuccessful one.
The 7-foot Nigerian literally walked into the team at the University of the Pacific and dominated the Big West. In 1997 – his junior year – Olowokandi led his university to the 1997 NCAA Tournament, where they were beaten in the first round by Saint Joseph's. During his senior year he averaged 22 points, 11 rebounds and 3 blocks per game. Heading into the draft it was widely accepted that Olowokandi was a talented prospect that had the potential to get even better. He didn't.
Unfortunately for Olowokandi, his career at the Clippers was stop-start, due to injuries and inconsistent play. This concoction of irrational play and injury also ruined his spells at the Timberwolves and the Boston Celtics.
Marvin Williams

Pick/Year: No. 2/2005
College: North Carolina
Team: Atlanta Hawks
Chosen over: Chris Paul, Deron Williams, Monta Ellis
NBA career stats: 10.8 PPG, 5.1 RPG, 1.3 APG
It's a mystery to this day why the Hawks opted for Marvin Williams over Chris Paul back in 2005. The Hawks had just come off a 13-69 season and drastically needed a new point guard, due to Tyronn Lue's poor form. Logic would suggest that Paul would be the ideal pick in the draft, having been named a First Team Consensus All-America. Logic lost that day.
Instead of Paul they went for Marvin Williams, a player who didn't even start in college, though he did come from the defending champions North Carolina Tar Heels. Why on earth would you use the second pick of the draft to get a collegiate sixth man?
The two men went very different ways. As to be expected, Paul has established himself as one of the better players in the NBA – he has a very good chance of winning his first championship ring with the Clippers this season – while Williams was underwhelming at the Hawks before being underwhelming with the Utah Jazz. Whether he will be able to buck the trend with the Charlotte Hornets remains to be seen.
LaRue Martin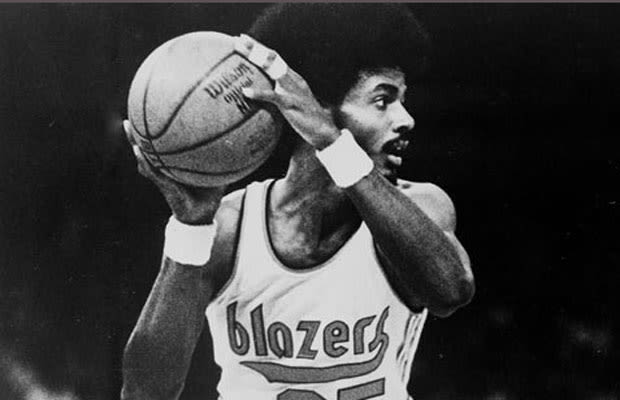 Pick/Year: No. 1/1972
College: Loyola University-Chicago
Team: Portland Trail Blazers
Chosen over: Bob McAdoo, Julius Erving, Paul Westphal
NBA career stats: 5.3 PPG, 4.6 RPG, 0.5 BPG (1972-76)
The butt of many basketball jokes, LaRue Martin was absolutely atrocious in the NBA. He had originally gained prominence after some strong play against the prodigal Bill Walton. Walton – who was the first pick in 1974 – has two championship rings to his name and was named the league's MVP in 1978 – during Martin's Loyola-Chicago's game against Walton's UCLA. When Martin declared himself eligible for the draft there was much fanfare, nearly all of it was generated from his performance against Walton.
This fanfare was enough to entice Portland into going for Martin with their first pick, but what a catastrophic error that proved to be. Martin couldn't hack it in the NBA and two years later his old friend Bill Walton was signed by the Timbers, giving LaRue no chance of making the side.
Four years after being the number one draft Martin had retired. Reports in 2005 stated that he now works for UPS.
Darko Milicic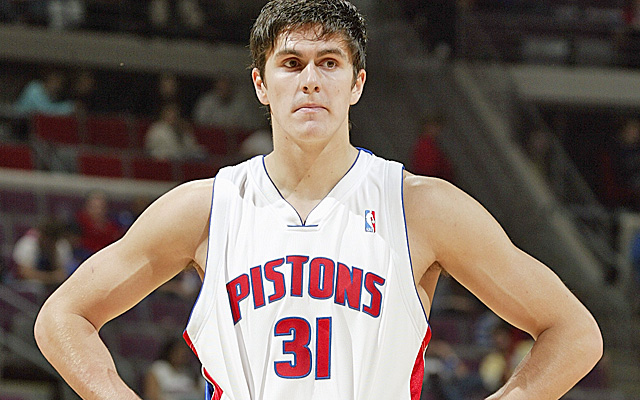 Pick/Year: No.2/2003
College: Hemofarm (Serbia)
Team: Detroit Pistons
Chosen over: Carmelo Anthony, Dwyane Wade, Chris Bosh
NBA career stats: 6.0 PPG, 4.2 RPG, 1.3 BPG (2003-12)
The 2003 draft was a golden opportunity for the Detroit Pistons. The season just gone saw them lose to the New Jersey Nets in the finals of the Eastern Conference, but they had the No.2 pick thanks to a deal made with the Memphis Grizzlies back in 1997. Here was a case of good team being made better, which it would of had they gone for the three players listed above.
You can defend Joe Dumars by saying that Carmelo Anthony and Dwyane Wade were not needed due to Richard Hamilton and Tayshaun Prince being on the roster, but the argument that Chris Bosh was not tough enough for the NBA has long been discredited. All three of these players individually were equal to Milicic squared.
What's worse, they signed Milicic and then never gave him consistent game time. During his three seasons with the Pistons his average MPG was 5.73. He may have been a star in the making had he been given the game time, but when you look at who the Pistons passed up he has to be looked at as a massive draft failure.
Kwame Brown

Pick/Year: No.1/2001
College: Glynn Academy – High School
Team: Washington Wizards
Chosen Over: Pau Gasol, Tony Parker, Zach Randolph
NBA career stats: 6.6 PPG, 5.5 RPG, 0.6 BPG (2001-13)
It doesn't really matter which way you look at it, Michael Jordan was the greatest basketball player ever. He may be tremendous on the court but when he's trying to manage a side from an off-the-court perspective, he has proven to be the polar opposite. His signing of Kwame Brown proves just that.
Brown was a mercurial talent in high school and was named in the 2001 McDonald's All-American Team. This was all MJ needed to see before making Brown the first ever high school player to be picked with the first draft pick.
His first season with the Wizards was terrible, but you can allow some leeway for that considering it was his debut campaign. The next wasn't much better despite his game time being increased, neither were the two that followed. And then to add insult to injury he turned down the Wizards new contract offer, instead preferring to go on the free agent market.
Since the Wizards, Brown has been passed from team to team, which he has been without since 2013.
Not only was he a waste of a pick, he thought of himself as above the club and jumped ship the second the opportunity presented itself.
These players made fans despair, Knock on wood, Wiggins won't.